BACKGROUND INFORMATION
In 2011 and again in 2012 the Peppermint Grove Beach Community Association received a grant from Coast West. One of the components of the grant included the establishment of a web flora of the plants of the Peppermint Grove Beach area.
Peppermint Grove Beach is in the Shire of Capel and situated approximately half way between Bunbury and Busselton.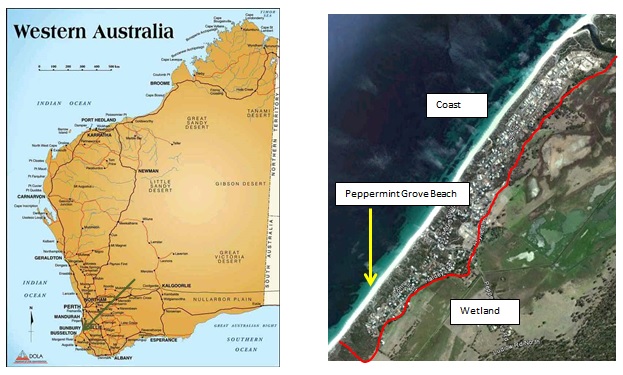 The area for the web flora is the coastal strip between the wetland and the coast. It is bounded at the north by the Capel River and by private land at the south. It consists of dunes of varying height, but one known as Hardey's Hill is the highest in the area with spectacular views to Bunbury to the north and Busselton to the south.
This project aims to:
encourage those interested in photographing the local plants; and
to illustrate all plants;

endemic plants – these are plants that occur here naturally;

Western Australian native plants – these are plants that occur elsewhere, usually within the south west of Western Australia but are not endemic to Peppermint Grove Beach; and
weeds (indicated in the descriptions by *) are plants that have become established here but occur naturally in another country or State of Australia.
Many of the endemic are spectacular and it is hoped that residents will be encouraged to grow these in their home gardens rather than other exotic species. We as residents in this environment, especially those who live close to the reserved areas, should be careful as to which plants are grown in our home garden to ensure that none become established in the dunes, and therefore become weeds, within the natural bushland. Some of the plants described in this flora are commonly grown in home gardens, but which if allowed to escape into the surrounding reserve areas could, and in some instances have become problem plants.
PRIORITY FLORA
Two of the plants photographed during the Peppermint Grove Survey are Priority Flora. Priority flora are listed and protected by the Department of Parks and Wildlife and must not be destroyed.
Bolboschoenus medianus is listed as a Priority 1 Flora. Plants listed as this category are species that are known from one or a few collections (generally less than five), all on lands not managed for conservation. This species is only recorded from 3 locations.
Hydrocotyle sp. Hamelinensis is listed as a Priority 2 flora. Plants listed as this category are species that are known from one or a few collections, some of which are on lands not under imminent threat of habitat destruction or degradation. This species is recorded from 7 locations.
HOW TO USE THIS SITE
The flora has been divided into the following main headings, namely Trees, Shrubs, Sedges, Grasses, Creepers and Prostrate plants and Perennials and Annuals. Each of these sections has been further subdivided under flower colour. Once the flower colour is selected there are thumbnails of the flower of each species to ensure ready identification. Where the species can vary in colour it is included in both colours, similarly where there could be confusion as to whether a plant is a tree or a shrub it is keyed out under both headings.
There no doubt are several species which have been missed during the photography process, if you know of any, please contact Eleanor Bennett on embennett[at]westnet.com.au with information on their location and any photographs you may have taken.
Created by Eleanor Bennett